RINOL EXTREME STYLE
EXCLUSIVE MONOLIT FLOOR ON CEMENT BASE
RINOL EXTREME STYLE is decorative floor system which is based on special cements, chemical additives and selected grain size aggregates and fillers as well as large number of color pigments. Floor system is very decorative with the possibility of combining different colors, designs and texture. It has high mechanical resistance, wearing resistance, and high level of flexibility. All these features guarantee monolithic appearance on large areas.
By making of RINOL EXTREME STYLE floor system, decorative "terrazzo" effect with very distinctive structure is achieved, with partially distinctive structure, small particles structure so called "micro terrazzo" or entirely monochrome floor system.
This floor system is suitable for production of decorative 10-20 mm thick floors, and it is done over concrete subbase.
Production of floor system assumes grinding and polishing by the means of special diamond discs by which permanent glassy and reflecting surface of extremely attractive and exclusive appearance is achieved.
Color of the floor as well as type of aggregates can be chosen according to design and investor's choice.
FLOOR SYSTEM DOES NOT SHRINK, WHICH MEANS THAT IT IS DONE WITHOUT EXPANSION JOINTS AND MAKES A MONOLITHIC SURFACE. With this very important feature a unique, extremely exclusive appearance is achieved.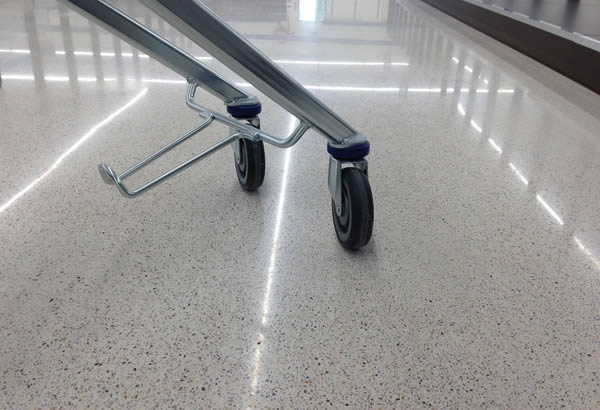 Possibility of making floor with fully distinctive aggregates and fillers – so called "terrazzo" effect, or with aggregate size less then 1mm – so called "micro terrazzo", or as completely monochrome homogeneous floor system.
RINOL EXTREME STYLE floor systems give freedom in designing to the architects – from homogeneous monochrome floor to exclusive floors with multicolor aggregates and rare materials.
The choice is limited only by architect's imagination and investor's wish.
RINOL EXTREME STYLE floor systems offer a wide range of options.
RINOL EXTREME STYLE offers unlimited possibilities by combining the colors, different aggregates, glass, resins, mirrors, which makes unique appearance.
RINOL EXTREME STYLE floor systems offer complete system solutions for:
- Areas with high visual and decorative demands
- Public facilities and institutions
- Hotels
- Shopping centers
- Banks
- Retail areas
- Salons
- Restaurants
- Offices and working areas
- Airport facilities
- Metro stations and similar
- Areas for public and individual use in general, designed according to individual architectural ideas and wishes.
PROPERTIES:
- Great possibilities of combining different architectural solutions
- Matching possibilities of different designs and architectural figures which gives the unique, individual appearance to the space.
- Large number of color combinations, different aggregates, glass, resin, mirrors and other materials.
- Possibilities of making floor with fully distinctive aggregates and various fillers (for example, glass, mirrors, resin, and similar), with partialy distincive aggregates, and without large aggregates (aggregate size less then 1mm), as well as completely monochrome floor system.
- Absolutely no shrinkage in floor system-shrinkage "0"
- High mechanical resistance, especially to abrasion
- High flexibility
- Low maintenance costs compared to other floors
- Long lasting sturdy floor system
- High flatness without visible pores
- High resistance to stains and spots
- High natural gloss, obtained by grinding, polishing and sealing
- Without cracks, delaminations and separations
- No need for curring
- Fire resistance in class "A" - highest fire resistance
RINOL EXTREME STYLE FLOOR SYSTEMS ARE HIGH PERFORMANCE FLOORS WHICH ARE IN ACCORDANCE WITH SPESIFIC INVESTOR'S DEMANDS.
EXTREME STYLE FLOOR SYSTEM IS ACCEPTED AS SYSTEM SOLUTION IN EXCLUSIVE AREA OF WORLD KNOWN BRAND