HTC SUPERFLOOR
Gives the strength to your floor!
Concrete floors deserve better treatment than just being walked. An HTC Superfloor™ will really make you appreciate the advantages of using concrete as an exposed floor surface. Dull, grey floors are transformed into brilliant, low maintenance, environmentally friendly and durable floors.
Characteristics:
The fact that concrete is a tough and durable material has been common knowledge for thousands of years. It was a common building material dating back some 7,000 years ago and was used in some of the most famous buildings of the Roman Empire, like Pantheon, which were built in concrete. Yet, in spite of this, knowledge of making concrete was forgotten. It wasn't until the 17th century that concrete was rediscovered and once more became one of the most common construction materials of our time. His Latin name, concretum, through history has become synonym for strength and durability. HTC Superfloor™ is the revolutionary flooring concept with a technique that makes concrete more than just strong and hardwearing. The technique is as simple as it is ingenious. HTC's machines and diamond tools grind and polish concrete floors for removing of week surface coating and with treatment of solid material we obtain a strong and resistant concrete. The final result of the process is more durable, shiny and beautiful floor.
| | |
| --- | --- |
| | |
HTC Superfloor -More than just a beautiful finish
BEAUTY COMES FROM WITHIN
Floors are an important part of everyday life, equally in industrial areas and in private residences. A floor needs to be functional as well as beautiful. That's why you're going to love HTC Superfloor™. The shiny concrete surface is not just aesthetically pleasing – it has many other benefits too.
• Strong floor

HTC Superfloor™ is an extremely economical option for all types of business activities. Compared with other floor types, HTC Superfloor™ offers unbeatable durability. The initial investment is the same, or even lower, than for traditional flooring solutions but the low maintenance cost and the longer lifespan make HTC Superfloor™ the most lucrative investment option. The life cycle cost is about 60% less than costs of traditional flooring solutions. And by using the Twister™DCS for maintaining the floor, you'll find that your floor become easier to clean, cost-effective to maintain as well as environmentally friendly

• Toward a better environment

Concrete is composed of pure natural materials. The coatings and coverings that are often applied to the concrete have an negative effect on the environment. HTC Superfloor™ uses 30 times less energy than traditional flooring solutions? The Twister™ floor maintenance system is also the only completely GREEN cleaning method because it only uses water and not any chemicals.

• A floor solution for all needs

HTC Superfloor™ is available as four different concepts: Platinum, Gold, Silver and Bronze. This means you can choose your floor's gloss level anywhere from a low reflective matte finish and a high gloss shine. What all four of the HTC Superfloor™ concepts have in common is that they are functional, economical, ecological and aesthetically appealing.
• A floor for the electronics industry

The resistance tests conducted, both on floor joists and on concrete slabs on the ground, show that HTC Superfloor™ complies with the SS EN 61340-5-1 standard. Measured values fall within the range for the international IEC standard. Walk around tests with ESD shoes generally produce low or no static. The limits stipulated in the standard for the handling of electronics have not been exceeded by HTC Superfloor™ in any cases.
• Add color to your floor!

HTC Superfloor™ offers more than just a chance to have a hard wearing, high-gloss floor. You can also add color of your choice to the concrete floor, without losing any of the floor's excellent qualities. You can add a color to hole floor surface or you can just add a logotype of Your company.

• Just use water!

The HTC Twister™ cleaning method allows you to keep all types of floors clean with minimum effort. All that is required is water – no chemicals or polishing agents. This makes HTC Twister™ more gentle on floors and produces brilliant results. The diamond pads fit to most of the scrubbing machines on the market.
HTC Superfloor concept
HTC Superfloor Platinum

Platinum produces the highest gloss finish and is the concept HTC normally recommends to our customers. It involves more grinding stages than the other concepts. The result is an unbeatably durable floor. Truck wheels and substances leave no marks on the glossy surface and light reflects gently off the floor.
HTC Superfloor GOLD

Using the Gold concept, you do not grind as deep into the concrete as with Platinum. This means that less aggregate is exposed. Just like the other concepts, Gold then involves polishing the floor with HTC Twister™ to achieve a gloss that is almost as brilliant as a Platinum finish. Gold produces a floor with an excellent resistance to marks from truck wheels, etc. HTC Superfloor™ Gold is ideal for concrete floors that are already even and level.
HTC Superfloor SILVER

The Silver concept is a version of Platinum. Using this concept, you grind as deep into the concrete as with Platinum, but do not polish it. The aggregate is exposed as with Platinum. Silver is therefore excellent if you want a floor with a matt surface finish.
HTC Superfloor BRONZE

Bronze is the concept with the least number of grinding and polishing stages. This concept does not involve exposing the construction concrete. Instead, the top layer of the surface paste is polished but not removed. This process creates a stronger surface paste with a shiny finish.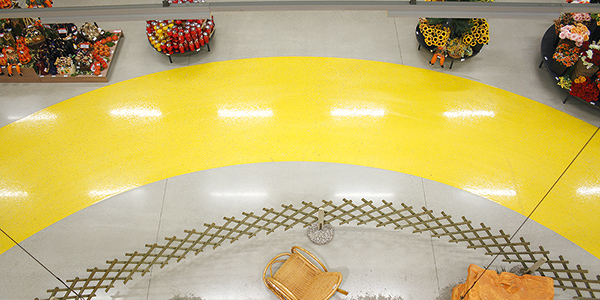 ADVANTAGES:
› Low-cost
› Aesthetical
› Environmentally-friendly
› It can be colored without loss of its quality
› Non slippery even if it is wet
› Maximum fire safety
›Good characteristic within the range of international standards IEC 61340-5-1 and American standards ANSI/ ESD S20.20-199
›Unlimited lifetime con Twister maintenance
›Equally good when new floor is placed and with remaking of the old floors
›60 % lower costs in relation to traditional solutions for floor coverage
›Lower vibration for vehicle
›Wearing resistance in conformity with SS i prEN standards
CHART OF MEASUREMENT